Registration Open for the 2023 House League Summer Season
---
---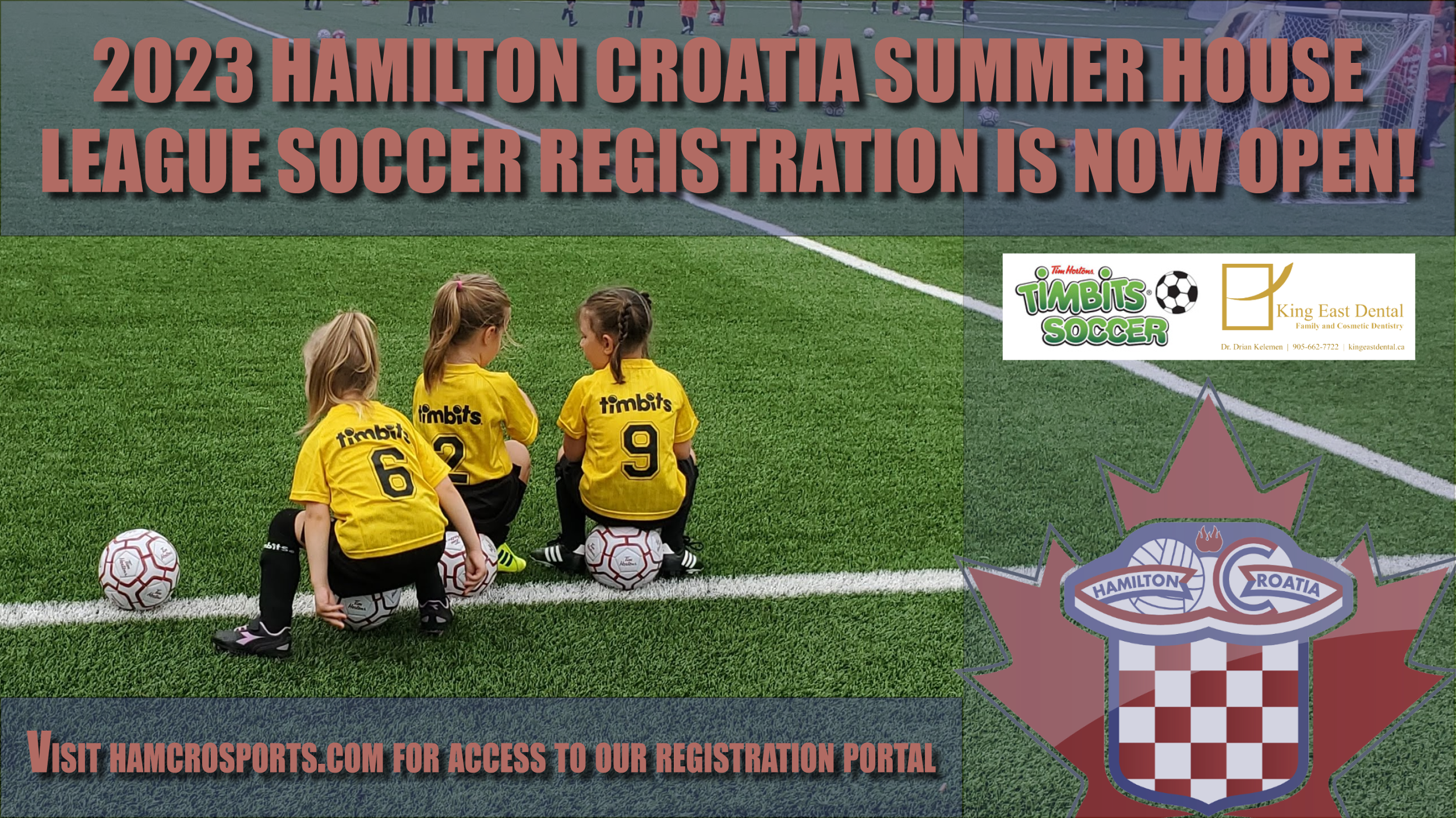 ---
In 2022 we had an incredible number of registrants and are anticipating a similar turn out again this year. Please remind friends and family to register early to avoid disappointment as there are limited spots available, and last year we sold out within a month of opening the portal.
A reminder that Hamilton Croatia is designated by Canada Soccer as a Quality Soccer Provider. All coaches will be certified before the season begins and our technical director has developed age-appropriate programming for proper development.
Days of Play & Fees
13-week summer program beginning Monday, May 29th, and ending with the Super Sunday Picnic on Sunday, August 27th
Under 3-Under 5 (children born in years 2018, 2019, & 2020) train once a week on Saturday's at 9:15 a.m. - $170
Under 6-Under 8 (children born in years 2015, 2016, & 2017) train twice per week on Monday's & Wednesday's (Times TBD) - $220
NEW THIS YEAR! Under 9-Under 11 (children born in years 2012, 2013, & 2014) train once a week on Monday's (Times TBD) - $170

NOTE: Registering with this group is strictly a registration into our 2023 House League summer season. Starting at U9+ the transition to rep soccer begins, consequently this division was created to provide an option for those children that want to continue to play and develop within the Hamilton Croatia program without having to commit to the comprehensive and demanding schedule of the rep teams. All rep team tryouts are held at the end of the summer season (and into the early fall) for the following season.
Packages Include
Jersey, shorts, socks, and soccer ball
8x11" team & individual photos (parents may order additional photo packages)
End of the year BBQ party
Medal & trophy
Additional Information
U3-U5 photos will take place on Saturday, June 10th
U6-U11 photos will take place on Monday, June 12th
Calling All Coaches!
As you know this program does not run without volunteers.

If you are thinking, "I don't have time" OR "I don't know anything about the sport" OR "I don't know how to coach kids" ...
You will have a team of coaches to support you
We will provide you with training to get you certified for the appropriate age group
We provide simple, easy to follow practice plans and game-based activities from experts on coaching kids
It's all about keeping the kids active and engaged
Above all else, think of the smile on kid's face when you tell them you are going to be their coach!
Questions?
If you are interested in coaching again this year, would like to join in and help with a team (the more the merrier), or have any other questions regarding the youth house league program, please reach out to Brittany at youthsoccer@hamiltoncroatia.com.
Register Securely Online